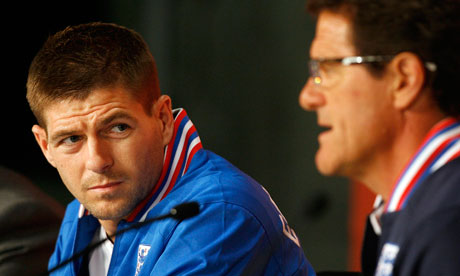 Predictions:
England v. Slovenia: England are crap, very crap. So bad in fact, that I'd say they were involved in the worst match of the competition last time around when they drew 0-0 with Algeria. Slovenia on the other hand have been playing very well and should've beaten the US last time around when they went two goals up. So, everything points towards the Slovenians at least getting a draw and advancing to the next round. However, I just can't see England leaving South Africa this early in the competition. At some point they have to play better and get a result.
Verdict: England should come through with a win. I'm not sure if they'll play well, but they should just about do enough to make it through. The English heartache will have to wait for another day.
USA v. Algeria: Algeria still has a chance of advancing if they can beat the US so I don't think they're going to roll over without a fight here. Depending on how things go in the other match, the US really needs to win to be sure of qualification. This is gonna be a tense one. If the US can play like how they did in the second half of their last match the win is theirs. If it's anything less though, and if Algeria can somehow manage to up their game they might get eliminated.
Verdict: This is going to be really close and ultimately, the US will not be able to squeeze out the win that they need to advance. England will win the group by beating Slovenia, and Slovenia will qualify in second place. The US and Algeria are eliminated.